Hanh Sanh Co., Ltd. was established in 1996, with 2 production workshops and hundreds of employees
Sankyo was build-up by the founder's enthusiasm wanting to bring Vietnamese products that met the international quality standards to consumers.
Over 22 years, Sankyo has been famous for its high-quality electric fans, helmets, and rice cookers at reasonable prices.



Years of substainable
development
Years of substainable development
1996
Hanh Sanh Co., Ltd was born by establishing the first electric fan manufacturing facility with 2 workshops
2000
The helmet manufacturing facility was opened, Sankyo becomes the first helmet manufacturing company in the Southern Vietnam
2001
Sankyo gradually improves and enhances the company's production productivity by established a 2000 square meter factory in Ho Chi Minh
2019
Sankyo Initially brings Sankyo brand name to international markets throughout successfully exported electric fans to many countries in Asia such as Myanmar, Sri Lanka, ...
Sankyo's vision is to become the top 3 most famous Vietnamese electric fan brands by.
consumers and gradually developing into the largest home appliance manufacturing company in Vietnam.

Sankyo focuses on human strength and seriousness in technology investment.
We exist to bring Vietnamese products with international quality standards
which meet the diverse needs of consumers in Vietnam
Integrity
Sankyo commits to ethical standards
integrity in dealing with parties in all business
Sustainability
Sankyo runs a business at the same time as contributing to the
community and society, focuses on nurturing future talents
towards sustainable development.
Innovative
Continuous improvement and innovation, striving to create the best value for customers, partners and society.
During 22 years, Sankyo continuously strives to win
prestigious certification and awards which is our pride,
and our responsibility for our employees, community and society.

- Gold Cup Vietnamese Trademark - Vietnam Intellectual Property Association
- Certificate of Vietnamese high-quality product over the past 20 years
– ISO 9001:2015


HUMAN STRENGTH
Sankyo owns the 2000 square meter factory with 2 workshops and hundreds of employees. Sankyo focuses on Human strength by complying with labor safety regulations and being responsible for ensuring the best working condition for officers and employees.
INTERNATIONAL QUALITY
TECHNOLOGY STANDARDS
Sankyo products are manufactured according to the national technical standards QCVN 4: 2009 / BKHCN with the ISO 9001: 2015, ensuring synchronous quality with reasonable costs.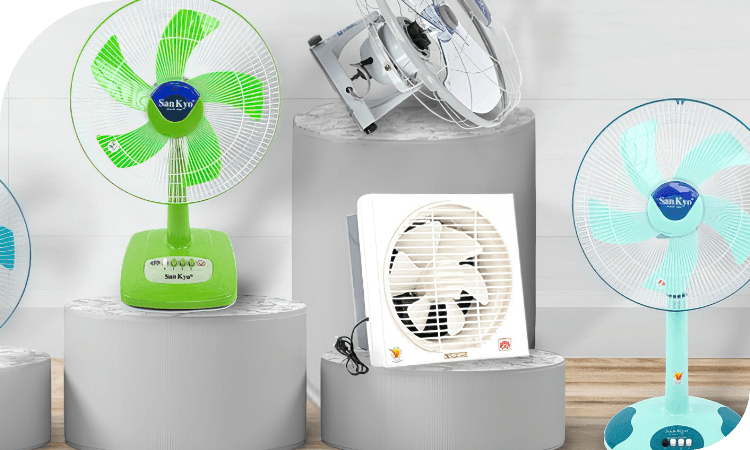 VARIETY PRODUCTS
Currently, Sankyo produces 07 common fan lines and 01
industrial fan lines (nearly 40 different products) which
can satisfy the diverse needs of users. Sankyo fans are
widely distributed throughout retail systems and supermarkets across Vietnam